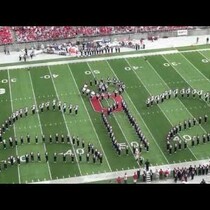 Posted November 26th, 2013 @ 10:36am
The Best Damn Band In The Land got a lot of recognition this season for being exactly that. With so many clever, intricate routines, they certainly deserved the attention!
Saturday's win over Indiana was the last game at the 'Shoe for the year, so it's time to do a Year In Review -- band style.
Enjoy!
Disney Tribute - Aug. 31 against Buffalo
Are You Smarter Than A Wolverine? - Sept. 7 against San Diego State
The Beatles - Sept. 7 against Florida A&M
Country and Western - Sept. 28 against Wisconsin
Michael Jackson Tribute - Oct. 19 against Iowa
Hollywood Blockbusters - Oct. 26 against Penn State
Gettysburg Address - Nov. 23 against Indiana
More from Fox Sports AM 1230